Reclaim Your Power Retreat
Greystone Estate, Pokolbin, Hunter Valley NSW
November 28th - December 3rd 2022
---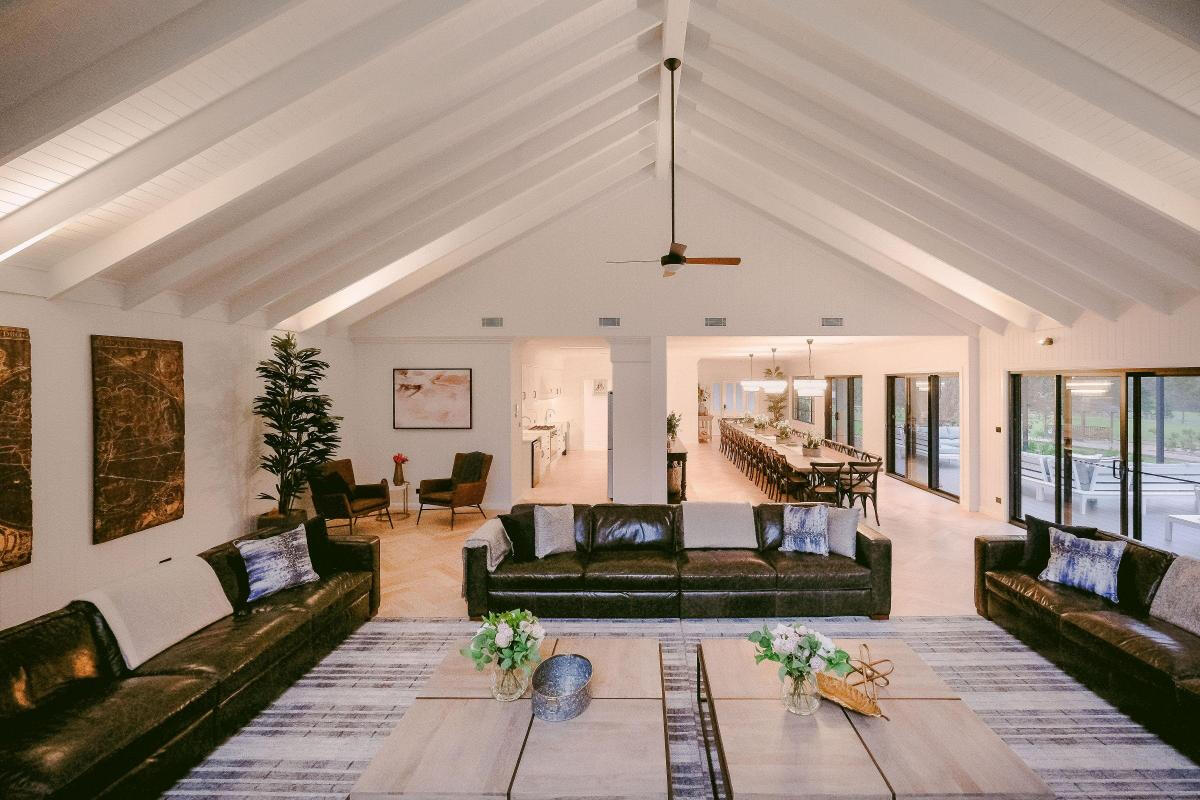 I am so excited to announce our 3rd Annual UNTRAPPED retreat!

After a couple of false starts (thanks to COVID!), I am pleased to confirm that our 2022 retreat is ON! The theme is reclaiming your power. Our entire program is geared towards helping you push back against diet culture, re-connect with your power, respect your body, and develop lasting strategies to navigate the challenges of living in a fatphobic culture. In addition to our program of workshops and activities, there's plenty of down time for you to rest, hang out by the pool, read, walk around the fabulous property, book into the day spa next door for pampering, and get to know the other UNTRAPPED retreaters! Did I mention there's a fabulous wine tour included?!

This retreat is for UNTRAPPED members who wish to take things further. Those who are not current members of UNTRAPPED and who wish to come along can purchase both the retreat and the UNTRAPPED program membership for a special price*.

I can't wait to see you there!
Love, Louise
---
Retreat Cost
The retreat cost includes lovingly prepared family style meals from the kitchen wizardry of anti-diet dietitians and UNTRAPPED guides Meg McClintock & Susan Williams, gloriously luxurious accommodation, a goodie bag, a 3 hour wine tour, one hour a day of compassion based yoga practice, plus an inspiring program of workshops, experiences and presentations from our team of anti-diet guides.

You'll also be taking home a powerful portrait of you from your private photoshoot with world-renowned body positive photographer Amy D Hermann.
Most rooms available at the Estate are single share in king beds, with one triple share room available. All rooms are extremely luxurious (scroll down to see pictures/detailed descriptions), the prices are as follows:

Suite with king bed and private ensuite in The Residence $2450

Gow House Master Suite $2800

Gow House suite with ensuite $2600

Gow House suite with wheelchair accessible private bathroom $2600

Cottage - downstairs king bed suite with private en suite $2550

Cottage - upstairs triple share room (single bed) & shared ensuite $2100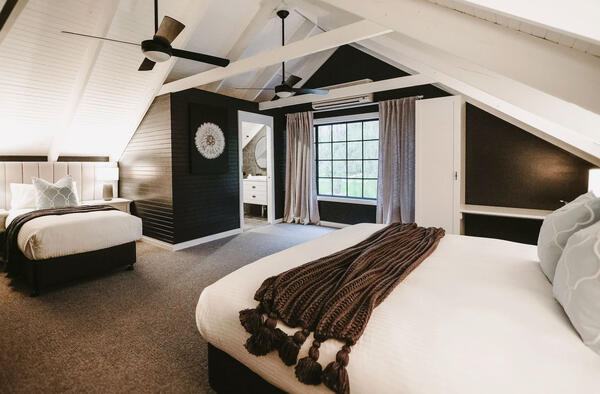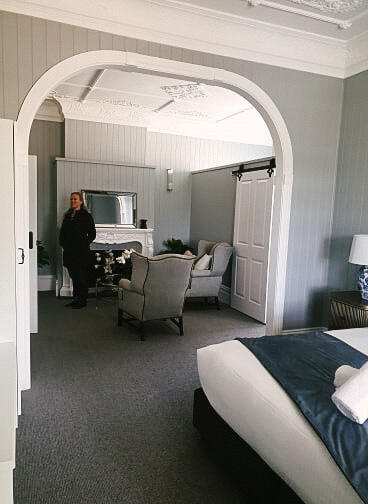 Triple Share Loft - Cottage
*If you'd love to come to the retreat but you're not an UNTRAPPED Masterclass member, you can purchase the retreat PLUS an UNTRAPPED membership for an additional $250 (a saving of $50).
_
---
About Greystone Estate
The magnificent Greystone Estate is a luxurious 15 Bedroom, 16.5 Bathroom property. Immensely private, the property sits on 10 acres down an olive tree lined driveway. Located centrally on the iconic tourist trail of Hermitage Road in the heart of the Hunter Valley, we're within moments of award winning restaurants, wineries, breweries, cycleways and adventure experiences.

Thoughtfully detailed, Greystone has all you would expect from the finest hotels, yet feels boutique with room for all. A sophisticated décor of striking grey, black and white features throughout the property with accents of leather, chrome, black and white, oak and stone, ensures every rooms exude glamour. You'll feel super-glamorous surrounded by these interiors, yet totally relaxed.

Greystone Estate accommodation spans 4 buildings: The Residence, Cottages 1 & 2 and Gow House. Additionally, there's the Games Room, BBQ Kitchen Pavilion and laundry all within meters of each other.

There is a glorious, newly installed pool area and outdoor pavilion (perfect for our morning Self Compassion practice).

With guests comfort and large group entertainment in mind, no detail has been left unturned at Greystone Estate. Dining has gone to a new level with the ultimate dining table seating 32 guests for all of our long lunches and fun family dinners.

The living room features sumptuous leather lounges and individual chairs so you'll be hard pressed to decide which is your favourite spot; in front of the stunning stone fireplace to relax with your fellow retreaters, or in front of the 2 giant screen tvs! The dining and living room areas open out onto a deep terrace with outdoor lounges to enjoy the views across the property.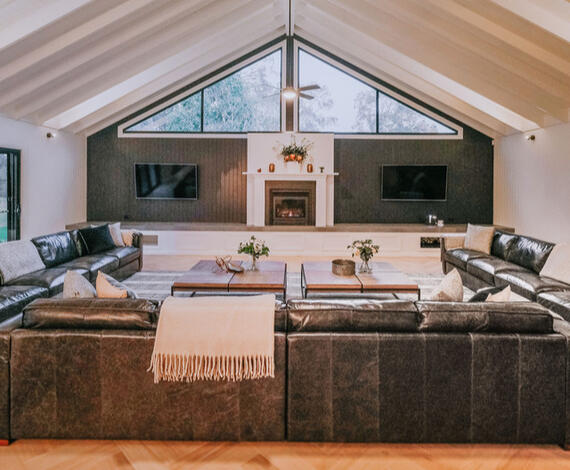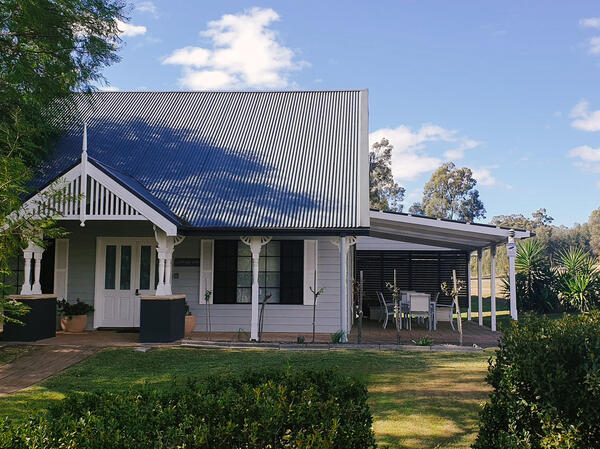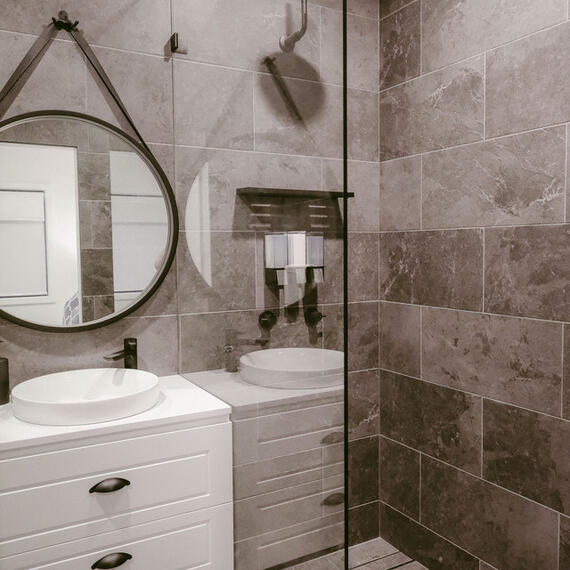 The Residence

Greystone Estates' main house is the heart of this property, which has been custom designed with room for retreaters to wine and dine, relax, or be entertained. From the moment you walk through the large entrance doors and in to the reception area the features, design and style will impress you. Its sophisticated and large living and dining spaces are light filled and feature packed, providing a sense of relaxed luxury. The Residence includes 7 stunning suites with king beds and beautiful ensuite bathrooms.
The Cottage
Separate to the main residence but accessible by a flat and well lit path, this is no ordinary cottage, with soaring cathedral ceilings and striking, jet black signature walls, all set against crisp white tongue-and-groove panelling, which add a sense of drama and instantly transport you into holiday mode. This two-level cottage accommodates 4 guests (3 sharing upstairs and one king suite downstairs with its own ensuite). The downstairs area includes a large living and dining area with large TV and kitchenette, with a separate bedroom and ensuite. Upstairs can accommodate 3 guests in a single bed each in a large loft room with a large en-suite. Fully air-conditioned with luxury fittings makes this cottage super special.
Gow House
Originally an iconic family residence in Merewether, this heritage house has journeyed to the Hunter Valley and now stands in pride of place as a jewel on the grounds of Greystone Estate. This gracious historic house has been lovingly restored and revived to a new glory, whilst retaining its true character with high metal pressed ceilings, deep verandahs and wrought iron features. Accommodating 4 very special guests in 4 king bed en-suite rooms, each with individual décor and hand selected pieces, makes staying a unique experience – you'll be fighting over who sleeps here! Gow house features a truly magnificent master suite, with a gorgeous sitting area and fireplace. Spacious and grand, you'll feel like royalty!
Pool and Pavilion
Central to the Estate, the brand new poolside pavilion area, built in 2020, is the only place you'll want to be on those warm afternoons.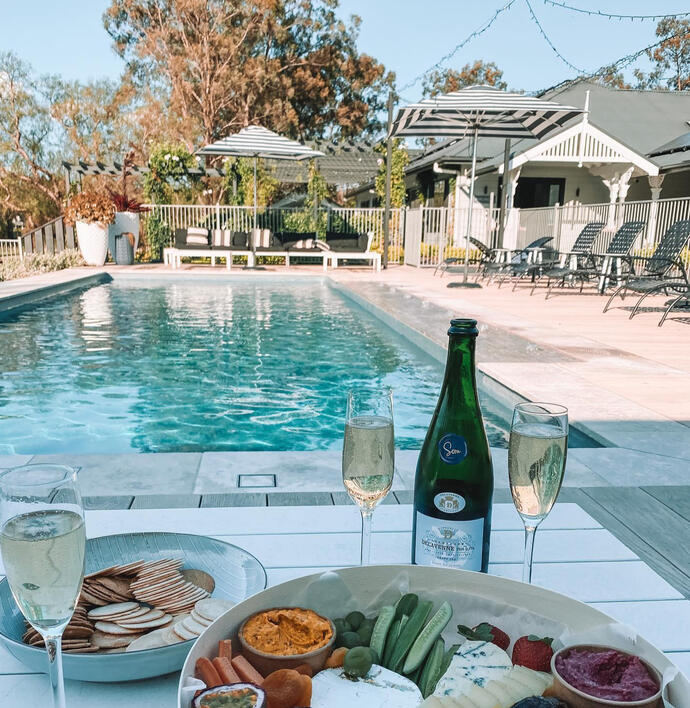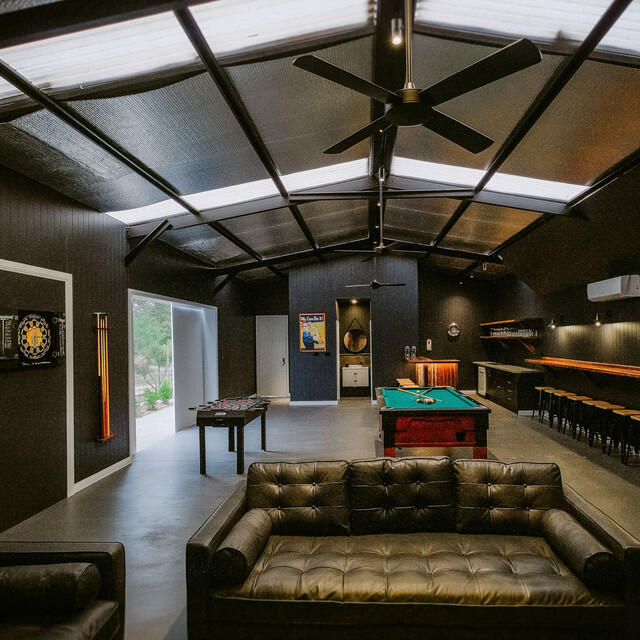 The Shed
The property's games room is no ordinary shed. Custom designed with entertainment for all in mind, guests of all ages will enjoy a pool table, table tennis, large TV screens, Foxtel and a bar with tables and chairs. Its playful interior is entertainment 'to the max'. Rustic corrugated iron and recycled timber features compliment giant barn doors that slide open on one side of the barn to take in the property views and pool beyond. It's also the perfect place for all of our workshops with the fabulous guides.
Garden
Greystone Estate is set on 10 park-like acres of beautifully manicured lawns and gardens, designed for visual appeal as well as fun. By day guests can wander the grounds and enjoy the rose, olive and fruit tree grove or take a seat by the dam and enjoy the sunshine. For those with activities in mind, bocce will keep everyone entertained. And in the evening flat illuminated pathways allow guests to enjoy the evening ambiance as well as an easy strolls from The Residence to their accommodation whilst taking in the lit trees and bright stars at night.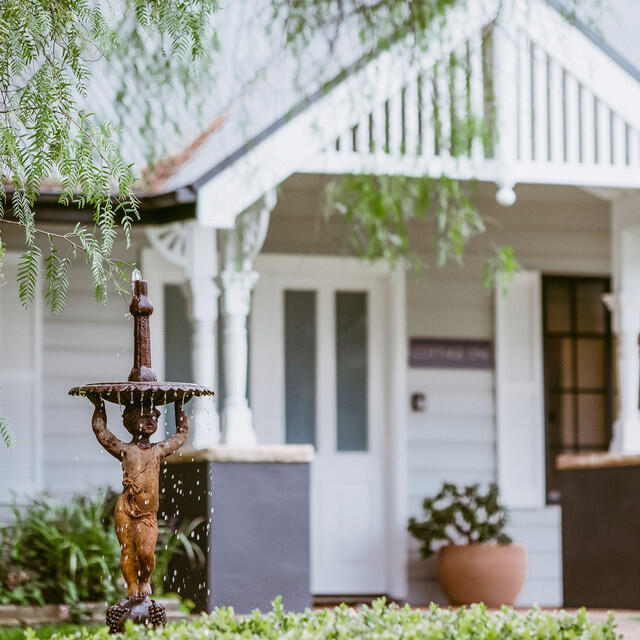 ---
Getting There & Getting Home
Please note that a shuttle bus is not included for this retreat as people will be coming from all different directions.

Greystone Estate is a sixteen-minute drive from Cessnock Airport or a 1-hour drive from Newcastle Airport.
Train - Greystone estate is a 19-minute taxi or uber ride from Singleton station.

Closer to the time, we can coordinate carpools etc for people coming from Sydney or Queensland (or anywhere else).
---
The UNTRAPPED Reclaim Your Power Retreat Schedule
Session Details:
Welcome from Louise Adams
Settle in, sip your champagne, and allow yourself to arrive in this safe space. During our first gathering we'll get to know each other, set our boundaries, and breathe a little.

Morning Embodiment Meditation with Janet Lowndes
All bodies and levels of ability are welcome here. Start each day with a super gentle, self-compassion based yoga session. Use your breath to anchor in your body, and allow a deep sense of peace and relaxation to embrace you.

When Intuitive Eating is Tricky with Fiona Willer
On the surface, intuitive eating looks pretty simple, but putting into practice in real life is a whole different story! During this workshop Fiona will answer all of your questions. We'll cover all kinds of topics: food intolerances, chronic medical conditions, no hunger cues, never hungry, always hungry, still bingeing - nothing is off limits! This practical workshop is aimed at helping you un-stick from the trickiness and learn effective strategies to enjoy the abundant, relaxed, and enjoyable thrill of intuitive eating!

Joyful Movement afternoon with Shelley Lask
This workshop will not be your standard fitness fare, but rather an afternoon of no-pressure play, exploration and silliness. Try some out-of-the-box activities, participate to whatever extent you wish and have a laugh with people who get it!

Movement is your birthright, not a performance (unless that's your thing) - so let's explore some ways to come home to it together.

Warning: your tummy might hurt from laughing!

Pushing Back: Advocacy focus groups with Louise Adams & Fiona Willer
Over two days we will create working groups aimed at advocacy to increase awareness of weight bias and to create improvements on both a personal and political level.
Topics we'll be covering: Identifying the main areas of life where weight bias impacts you; operationalising methods to address these; creating templates (eg letters, flashcards) to use for personal advocacy; organising on a broader level to create equality in areas we have defined as important

Individual Photo Shoot with Amy D Herrmann
In diet culture, having your photo taken can be a confronting and demoralising experience. But this is all about to change - we are so lucky to have renowned photographer and body positive advocate Amy Herrmann here at the retreat, to offer each participant a private photo shoot. Amy says: "There's nothing I love more than finding the inner beauty of women and immortalising that in a photograph for them to see for themselves...This shoot is all about you. It's about sharing who you are on the inside and letting that radiate through to the outside. It's about sharing your truest self and capturing images that are honest. We'll have time to get to know each other and chat about how you'd like to be photographed, whether it be outdoors, indoors, clothed or unclothed, or a bit of both. We'll take it slow and work together at a pace that feels comfortable for you. And together, we'll create magic."

Breaking Through Barriers with Hunter Valley Martial Arts
This workshop is all about identifying your rage against diet culture, and channeling it into focused and empowering action! Kelie is an experienced instructor who will guide us using breathwork into breaking through barriers that you'd never think possible! All bodies and all levels of ability will be looked after in this space. This workshop will unleash your rage and transform it into incredible strength! All bodies and all levels of ability will be looked after in this space. Find out more about Hunter Valley Martial Arts here.

The Wine Tour!
On our last afternoon of the retreat you'll be taken on a luxurious 3 hour wine tour via a private bus. We'll visit three of the Hunter Valley's best wineries, and enjoy tastings at each. We'll be visiting First Creek winery, a highly awarded vineyard with 11 winemakers onsite. The chief wine maker is Liz Jackson, the "Queen of Chardonnay"!
_
---
About our UNTRAPPED Retreat Guides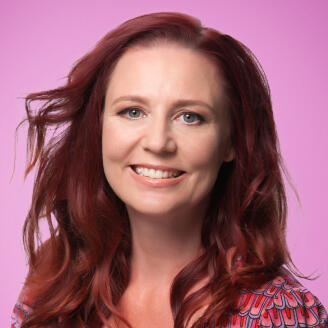 Louise Adams
---
Louise is a clinical psychologist with over 20 years experience, and founder of the UNTRAPPED Masterclass. She also hosts the popular All Fired Up! Podcast, where she chats with people from all over the world about the toxic influences of diet culture. Louise is the co-author of the Non-Diet Guidebook for Psychologists & Counsellors, with Fiona Willer, AAPD, and the author of Mindful Moments, a practical guide to building self-compassion skills. Louise is passionate about bringing the anti-diet message to as many people as possible, and aims to create a worldwide community of people living an UNTRAPPED life. Louise advocates tirelessly in the media, at conferences, through her professional training courses, and in her blog, as well as working with people in individual therapy. Louise is a strong believer in the power of self-compassion and the non-diet approach to empower people to live an authentic, connected, embodied life. You can find out more about Louise here.
Dr Fiona Willer
---
Fiona is an advanced accredited practising dietitian (AAPD) and the owner of Health, Not Diets. Fiona's mission is to empower people to adopt a weight neutral practice by providing training and education. Fiona completed her PhD in the application of the non-diet approach. She values nourishment, autonomy, authenticity, and evidence based practice. Fiona is a fierce advocate for steering health professionals, particularly dietitians, towards weight inclusive practice. She is the author of two guidebooks: The Non-Diet Approach Guidebook for Dietitians, co-authored with Fiona Sutherland, and The Non-Diet Approach Guidebook for Psychologists and Counsellors, co-authored with Louise Adams. Fiona has great enthusiasm for overusing food and eating metaphors in everyday life. Find out more about Fiona here.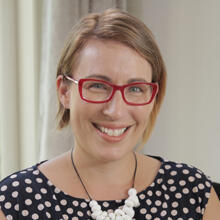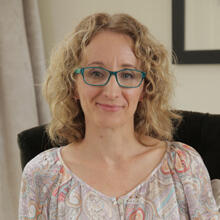 Susan Williams
---
Susan is an anti-diet dietitian and the owner of Zest Nutrition. She helps people to find peace with food and their bodies, and to find their way out of the maze of rules, beliefs, unhelpful self-talk, back to a place where they can care for themselves authentically, respectfully, and compassionately. Susan especially loves to see the relief, the joy, and the light come back to people as they move away from dieting. Her greatest joy is to hear people talk with surprise and pride about their latest eating discovery, how their body is trustworthy, and how the shackles of weight focus are falling away. You can find out more about Susan here.
Meg McClintock
---
Meg is a accredited practicing dietitian and a food behaviour expert who connects people who are tired of fighting their bodies and looking for a better approach to food, health, and happiness. She is passionate about growing a movement of people who are confident and empowered, strong in their resistance to all forms of shame and guilt associated with food and bodies. Meg works specifically with mums, finding that they in particular face an overload of information and misinformation about feeding their families from friends, family, social media, 'food gurus', and even some health professionals. When this pressure is coupled with the busyness of life, many mums' confidence is undermined, leading to feelings of guilt, self judgement, and stress. All of this can impact negatively on their physical and mental health. Meg's professional goal is to help women wade through this information and to empower them to be the confident, happy and healthy people that they want to be! You can find out more about Meg here.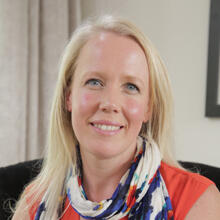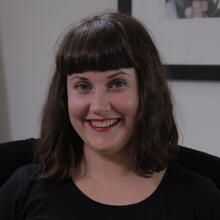 Shelley Lask
---
Shelley is a mobile personal trainer who uses the Health At Every Size approach to support people to get fitter and stronger in a way that's fun, flexible, compassionate and completely weight neutral. Shelley has a background in boxing and MuayThai and gets a real kick out of seeing people start to enjoy movement and discover some of the amazing things their body is capable of. Shelley works with people of all ages and genders, outdoors, in their own homes and even via Skype. She's led more than 4000 sessions, training people for everything from triathlon training to getting up and down from the floor independently. Shelley loves having a laugh with her clients and breaking down the stereotype of what personal training is all about. You can find out more about Shelley here.
Janet Lowndes
---
Janet is the Director and senior psychologist at Mind Body Well, a multidisciplinary practice in Melbourne which assists people with challenges in their mind-body relationship. Janet has more than 25 years experience working from a non-diet perspective to assist people in developing self-caring and self-respectful relationships with their minds and bodies, prioritising wellbeing on all levels. Janet's professional practice includes psychological counselling, professional supervision, yoga therapy, and meditation training. You can find out more about Janet here.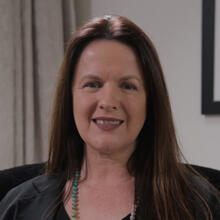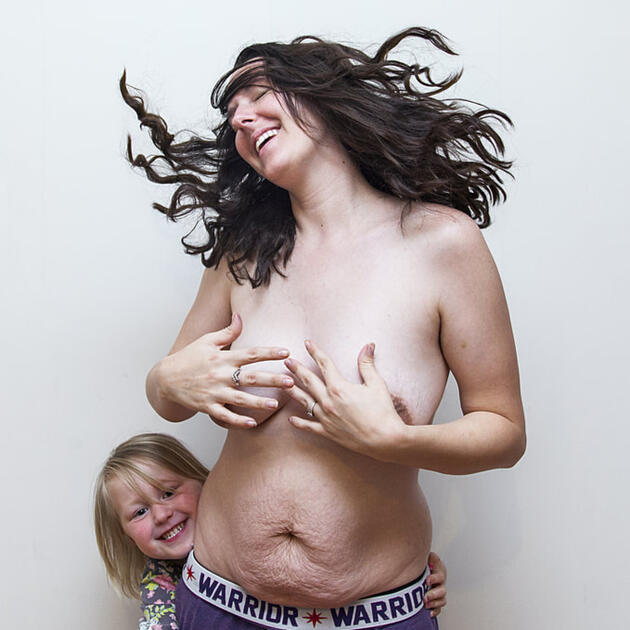 Amy D Hermann
---
Amy D Herrmann is an Adelaide based visual artist, photographer and founder of the photographic project and book, Underneath We Are. Amy has a Bachelors degree in Visual Arts and an Honours degree in Visual Arts (Photography) from the University of South Australia. She works as both a commercial photographer and conceptual visual artists exhibiting around Australia. Her latest work for Underneath We Are has taken her to destinations across Australia and the United States. You can find out more about Amy here.
---
VIEW THE CANCELLATION AND REFUND POLICY
Have questions about the retreat? We would love to help! Please get in touch via the button below.
© Louise Adams. All rights reserved.